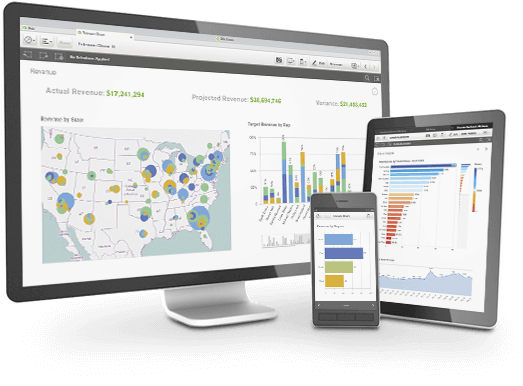 Goline is a partner of QLIK and markets its software, technical consultancy, as well as product development and installation.
Qlik is a business Discovery platform i.e. (advanced Business Logic oriented towards the sharing of information among applications, mobility as well as analyses and interaction concerning shared data). It provides Business Intelligence (BI) functions for analysing data, leading them to perform decision-making and assessment processes.

The Qlik platform differs from usual Business Intelligence tools in that it does not need to depend on structures equipped with data warehouse. The engine generates new data views on demand, compressing the data and retaining it in the memory, thus making it available for immediate exploration by several users.

Click offers a data association experience which covers all the data used for the analysis, irrespective of where it is stored, ensuring high-performing consultation by users, which is especially suitable for the query of historical data, and creates an associative relation on any structured data source (ORM).
Data Integration
Organizations collect huge amounts of data. But, most of the data that can guide decisions and actions isn't analytics-ready or accessible. Qlik operationalizes DataOps for analytics, turning raw data into trusted, actionable data that's easy to find, current, and immediately available to Qlik Sense®, Tableau, Power BI, and beyond — on any cloud you choose.
Analytics
Qlik Sense® sets the benchmark for a new generation of analytics. Empower users at any skill level to freely explore data with powerful AI combined with the industry's most powerful analytics engine. Bring actionable insights into every decision with the industry's most complete platform for modern BI – on our cloud or anywhere you choose.
Go from passive to active analytics
Organizations need a dynamic relationship with information that reflects the current moment. Traditional, passive BI falls short. We combine a real-time data pipeline with action-oriented analytics capabilities, creating Active Intelligence that provides in-the-moment insights and drives immediate action.
Seize every business moment with intelligent alerting, powerful collaboration, mobile and embedded analytics, and automated triggering of actions.